Breaking – 19 Reported Dead as Helicopter Carrying Oil Workers Crashes
Published in Oil Industry News on Saturday, 22 October 2016
Russia's aviation agency says 19 people have died after a helicopter carrying oil workers crashed.
The Federal Air Transport Agency says in its statement Saturday that 16 of the 19 passengers on board and all three crew members died in Friday's crash in northern Russia.
The Mi-8 helicopter was traveling from Vankor to Staryi Urengoi in the Yamalo-Nenets region when it crashed about 45 kilometers (28 miles) northeast of Staryi Urengoi.
Rescuers found the helicopter lying on its side in the tundra. The agency said poor visibility and strong winds could have been factors.
The Mi-8 has been a mainstay of Soviet and Russian aviation since the late 1960s and is widely used worldwide.
Source: uk.news.yahoo.com
---
Three survivors taken to hospital after Mi-8 carrying oil workers comes down 28 miles north-east of Staryi Urengoi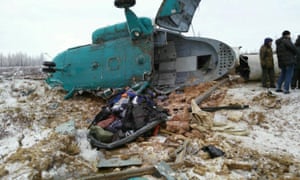 Nineteen people have been killed after a helicopter carrying oil workers crashed in northern Russia.
The country's aviation agency said 16 of the 19 passengers and all three crew members died when the aircraft crashed on Friday afternoon. The three survivors were taken to hospital.
The Mi-8 helicopter was travelling from Vankor to Staryi Urengoi in the Yamalo-Nenets region when it came down about 28 miles (45km) north-east of its destination.
It took rescuers seven hours to reach the crash site amid fog and poor visibility. Colonel Dmitry Alexandrov, a regional government official, said the helicopter "fell on its right side, and the victims could not get out".
The governor of Yamalo-Nenets, Dmitry Kobylkin, announced a day of mourning on Saturday with flags lowered and entertainment events cancelled, calling the accident a source of "great sorrow for all of us".
Russia's president, Vladimir Putin, expressed his condolences to the relatives and friends of those who died, his spokesman Dmitry Peskov said.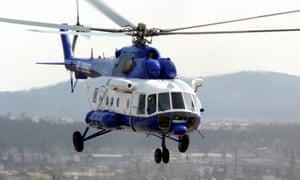 The aircraft, owned by the Siberian Skol aviation company, was transporting workers from a subcontractor of the Russian oil giant Rosneft, the Tass news agency reported.
Russia's investigative committee said the crash could have been caused by a failure to comply with flight safety regulations, mechanical problems or difficult weather conditions. The agency has opened a criminal investigation.
The twin-engined Mi-8 series is the most successful Russian helicopter model, with more than 12,000 produced since it was first built in the late 1960s.
They have been sold to more than 100 countries and have spent about 100m hours in the air. However, there have been several crashes involving the helicopters n recent years.
In July 2013, an Mi-8 carrying 25 passengers crashed in a remote area of eastern Siberia, killing 21 people.
In June 2014, 16 people died after an Mi-8 with 18 people onboard plunged into Lake Munozero, near Murmansk, in northern Russia.
And in November 2015, 15 people died when an Mi-8 crashed near Igarka in western Siberia, while another 10 were injured.
---
This highlights the harsh and dangerous conditions oil workers face while traveling to  and from work in a high-risk sector , where major accidents and incidents can happen at any time.
Our thoughts and prayers  and deepest  condolences to all affected by this tragedy.