North Sea helicopters grounded over safety
The S92 fleet has been recalled for safety inspections after emergency landing last month.
North Sea helicopters have been recalled for safety checks after a chopper lost control during an emergency landing offshore.
Manufacturer Sikorsky has called for inspections to the tail rotors of S92 helicopters and all three major UK operators, CHC, Bristow and Babcock, have agreed.
The move is likely to cause widespread disruption to North Sea flights for at least 24 hours, as well as search and rescue operations.
S92s and Super Pumas, which are already grounded following a fatal helicopter crash last year, are responsible for the vast majority of flights offshore.
Some helicopters which were already in the air when Sikorsky issued the recall at 8am on Tuesday were forced to turn around and return to base.
S92s have been widely used by the coastguard since 2015.
One Inverness rescue helicopter was cleared for lifesaving work on Tuesday morning and other choppers are expected to return to service later in the day.
There are around 60 S92s in the UK and each inspection is expected to take up to 11 hours.
A small number of helicopters with parts installed or repaired after November 2016 are allowed to fly for up to ten hours before they are inspected.
A Sirkorsky spokeswoman said: "We anticipate that the majority of the fleet will have the initial inspection accomplished within the next 24 to 48 hours depending on their operational tempo.
"Many operators have already informed us that they have completed this inspection. From that point, there is a recurring inspection on a continual basis."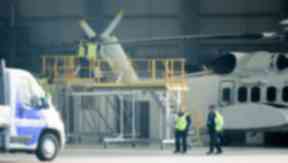 Les Linklater, director of oil industry safety body Step Change in Safety, said: "This morning Sikorsky released an alert service bulletin for the S92 requiring a onetime visual inspection of the tail rotor pitch change shaft and bearing assembly on the worldwide S92 fleet prior to the next flight.
"The decision made by Sikorsky is a precautionary measure to ensure continued safe flight operations and we are aware that helicopter operators are working to assess the impact of this requirement, while investigating all opportunities to limit the effects on the flying program.
"Currently the duration of the inspections is expected to take up to 11 man hours, which means this will cause some short-term delays.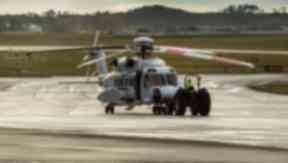 "We are in close communication with trades unions, helicopter operators and the Civil Aviation Authority.
"Furthermore, the Offshore Helicopter Safety Leadership group has convened a call to discuss what is being done to maintain safe flight operations and limit the operational impact and inconvenience this has caused, and will provide an update when it is available."
On December 28, a CHC S92 was attempting to touch down on the West Franklin oil platform when it began to respond unexpectedly to commands.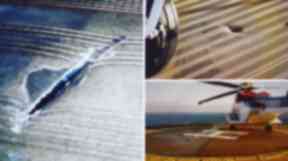 The helicopter spun and as it landed its wheels gouged the helipad, reportedly damaging the helicopter's undercarriage and the deck.
None of its 11 passengers and crew were injured and the S92 was taken back to Aberdeen by boat two days later.
The Air Accident Investigation Branch is carrying out an inquiry into the incident, focusing on potential problems with the helicopter's tail rotor.
The American Federal Aviation Administration (FAA) issued a warning to helicopter operators just over a month earlier after an S92 lost control while hovering.
Preliminary enquiries by the FAA determined that the likely cause was a fault in the helicopter's rotor system.
CHC carried out an inspection of its S92 fleet in response but found no issues, the firm said.
---
`Healthy & Safety offshore is No Accident`,Unite and Offshore trade unions fight to ensure the highest safety standards are adhered to for all who work and fly in offshore helicopters.
The professionalism of the aircrew and support staff has to be commended on how they deal with health & safety issues and helicopters flight incidents. Offshore trade unions will continue to demand the highest training and safety standards for all who fly and work in the offshore helicopter fleet.
If you fly in the helicopters or work offshore `  Health & Safety is No Accident`
Get Protected! Get Active! Get Organised!
Join Unite online today!
Unite is the largest trade union in for offshore workers in the North Sea UKCS
Have a voice, take action and make change happen. Join the union
today!