Thatcher skipped Piper Alpha memorial to attend lunch
The Prime Minister instead sent the Scottish and energy secretaries to the service.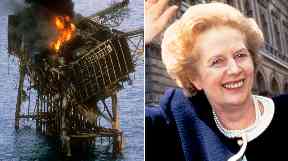 Margaret Thatcher skipped a memorial service for victims of the Piper Alpha disaster so she could meet a top Conservative fundraiser.
The Prime Minister was invited to the event at a church in Aberdeen five days after the tragedy on July 6, 1988, which claimed the lives of 167 men.
After being told it would mean cancelling a series of meetings, she sent Scottish secretary Malcolm Rifkind and energy secretary Cecil Parkinson.
Instead the Prime Minister held a lunch with industrialists in London and met Tory fundraiser Lord McAlpine.
She also attended an event at Westminster marking the 300th anniversary of the Glorious Revolution.
Thatcher's decision was revealed in newly declassified documents held by the National Archive.
Diary secretary Tessa Gaisman wrote to the Prime Minister on July 11, 1988, telling her that if she wanted to travel to Aberdeen "time would be tight".
"You could do it if you left the house at 11.40am… and went by helicopter from Wellington Barracks to Northholt and then flew up to Dyce," she said.
But she added: "This would mean moving your afternoon engagements and cancelling or postponing the lunch for industrialists."
In a eleven-word response, Thatcher wrote back: "I thank the lord chancellor if he would kindly represent me."
The Prime Minister had travelled to Aberdeen on July 8 to meet victims and hold a meeting with Piper Alpha operator Occidental Petroleum.
She flew to Scotland alongside the Scottish secretary and was urged by her private secretary, Dominic Morris, to use the flight to lobby Rifkind on "outstanding policy issues".
The newly-released documents also include a letter from energy advisor Greg Bourne, where he warns the Prime Minister: "Trade unions will try to make political capital out of this catastrophe.
"Their frustration is more from not being able to make much headway in recruiting members offshore, rather than real concern over safety standards."
An inquiry held in the wake of Piper Alpha led to more than 100 improvements to safety in the North Sea. It remains the worst offshore disaster in history.
Unite the Union and all offshore trade unions are essentially the workers in the Industry that collectivise to have the strength to protect themselves at work and to fight to have high standards of Health & Safety at work especially in the Oil & Gas as this is high hazard risk sector.  The trade unions campaign against exploitation of workers rights and fight to up hold employment laws.
If you work offshore  in the Oil & Gas sector and not yet a member of  a trade union
Get Protected! Get Active! Get Organised!
Join Unite online today!
Unite is the largest trade union  for offshore workers in the North Sea UKCS
Have a voice, take action and make change happen. Join the union
Join Unite today!