Super Pumas: Can helicopters win over worried oil workers?
Many workers have vowed never to travel in the helicopters again after fatal crashes.
Super Puma helicopters are no longer used in the North Sea and Norway following a series of fatal accidents and ditchings.
Their manufacturer, Airbus Helicopters, said it's doing everything possible to learn lessons and ensure they are safe.
But many oil workers call them "flying coffins" and say they'll never travel in them again.
STV News visited Airbus Helicopters' HQ in Marseille, France, where the company employs more than 8000 workers on a massive sprawling site.
Around 20 Super Pumas are produced on the production line every year. Many have a military use; others a wide range of civilian services.
The oil and gas industry is important but it's here that the Super Puma name has taken a massive knock.
A total of 33 offshore workers have died since 2009 following accidents off Peterhead, Sumburgh and Norway. There were also two ditchings. Apart from the Sumburgh incident, all involved the aircraft's gearbox.
Since the Norway crash in 2016, the company has been engaged in a huge effort to identify what happened and make improvements.
"Each time there is an accident the workforce here is devastated", says Michel Macia, head of Airbus's Super Puma programme.
"We are questioning ourselves to try to improve and do as much as we can based on the knowledge that we have."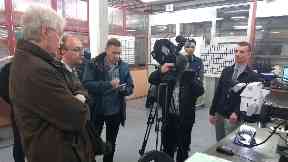 Airbus showed us round its laboratory. Inside, dozens of people in white coats were looking through microscopes or making notes. The microscopes are powerful. They can magnify machine parts up to 200,000 times.
Airbus has introduced a number of measures which they hope will prevent a repeat of what happened.
Régis Magnac, head of customer operations, said the type of gear that broke in 2016 is now replaced in all Super Pumas and that generates less stress in the gearbox .
He claims there are more frequent inspections, five other improvements and he believes it's safe.
"We have done everything possible," he says. "Now it is up to the customers and the workforce to decide if they fly or not".
But the North Sea workers are not convinced.
Tommy Campbell, chairman of the Offshore Co-Ordinating Group, says: "There's no question Airbus are doing everything possible to make sure that their helicopters are safe.
"But the workforce have no confidence in it now. They are clearly saying to us that they don't want to set foot in these helicopters ever again and we have to respect that mandate."
Airbus clearly wants to salvage the Super Puma reputation in the North Sea.
Many of its helicopters such as the H175 are performing important work but the name Super Puma in Norway and Aberdeen is toxic.
On my way home, we bumped into an oil worker who was curious to know where we've been.
When we explained, he said the [currently used] Sikorsky's are bigger.
"They've more room. Nothing's wrong with them. Why do they want to bring the Pumas back?" he asked.
Airbus know it needs to persuade the doubters. But it's convinced the Super Puma is now as safe as it can be and hopes one day that it will once again be seen in the skies above the North Sea
---

Join Unite the Union and Keep the North Sea Puma Free
http://www.unitetheunion.org/growing-our-union/joinunite/